My mom was over for dinner a few weeks ago and asked what I was sewing.
"Nothing. I'm not allowed to sew until I wrap up our taxes." [Imagine my frownie face.]
"But there's no creativity in taxes!" She said.
"EXACTLY!" I was so relieved, thinking at least my mom understands my pain.
She smiled. "That's what you would tell me when I asked you to clean your room...'But Mom, there's no creativity in cleaning'"
Hmmm, not much has changed. Well, my desire for clean spaces has improved, at least.
It kills me not to sew! I'm a little lost without a sewing project. Good news for my addiction: my daughter needs a prom dress!
We actually looked at some RTW dresses, but she was mostly disappointed. So much so, she didn't even try one on. After all, it is her last year of high school, and we would both regret it if the poor thing had to wear a store-bought dress. Within minutes, she gave me her ideas. Of course they're red carpet dresses. No bling like the typical prom dress, and she doesn't want any added. I do think a dress is more versatile without a lot of fluff and bedazzling, though.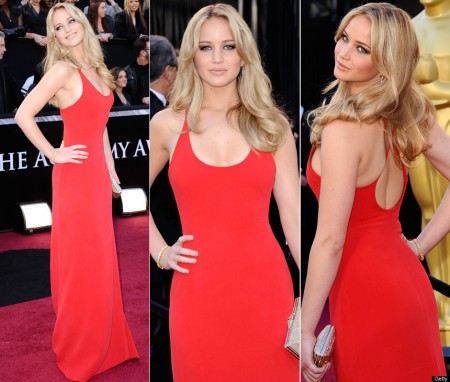 Idea #1: 2011 Academy Awards, Jennifer Lawrence in Calvin Klein
Idea #2: 2014 Golden Globes, Julia Louis Dreyfus in Narciso Rodriquez
After getting her dad's input (he has more fashion sense than I), she decided on the Jennifer Lawrence. It is available on Rent the Runway -- believe it's $300, but I think I can do it much cheaper than $300. In fact, I'm happy to make it. "It will save us a couple hundred dollars, after all". I will just have to set this boring paperwork off to the side for a few days (or weeks)...
No patterns exactly like it, but I did find a similar Vogue, that I immediately bought and re-sketched with the scoop neckline and teardrop back and ordered red jersey.
Then she changed her mind. She wants the other one.
That's fine, there is a Simplicity pattern that is very similar to the Narciso Rodriguez, which will inflict less pain than re-drafting something. It is slightly different, in that it has princess seams instead of a bias cut and a sweetheart neckline. I really prefer the fitting advantages of princess seams, and re-drafting a neckline shouldn't be an issue. Getting that tight mermaid look while still allowing her to walk may be an issue, however.
Hers will be in a red crepe, instead of orange. We toyed with the idea of dying silk, but decided to go with a "sure thing." I'd feel awful if it came out pink, or freckled or ombre.
The fitting is complete, so I'm hoping to cut out the dress and wrap it up in the next few days. Prom is a week from tomorrow, and we are hosting dinner (in my sewing/dining room), so no room for last minute sewing!
It's a little sad thinking that this is the last prom dress.