Encouraged by the very creative and prolific Rhonda of
Rhonda's Creative Life
featuring my little blog, I am sharing the latest project that has kept me just a little bit busy...
Truly, I began this project with just five minutes a day, because that was all the time I could spare, until my time off around Thanksgiving. I finished the lining and handsewing Saturday morning and wore it Saturday afternoon to run errands.
I've had New Look 6736 for quite some time, in fact, I believe it is now OOP. I love the long version of the jacket and hoped to try out the sizing with a "wearable muslin" on the shorter jacket, with the intention of making a longer silk version as an evening coat.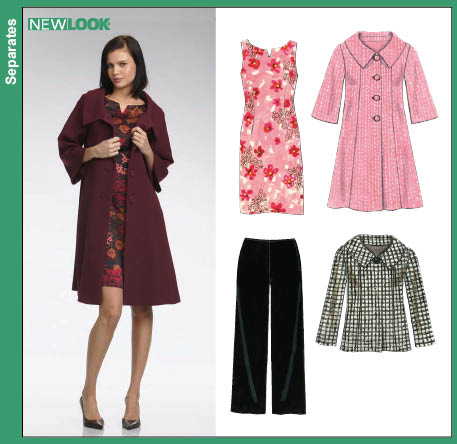 With only a few minutes a day to sew, the short version took me way too long to even consider the silk version, especially since I intended it to wear tomorrow night. I do love the fit of the short jacket, though, and am ready to make the silk version when time permits. Just have to find the right fabric...
Fabric
: a multi-color quilter's cotton, that is a bit busy for most clothes I would wear, but for weekends or running around town it makes a really nice little throw-on jacket. Shades of indigo, beige, lots of black.
Lining
: I added cling-free lining (pattern is unlined), but with cotton, lining is a must.
Other
: Added buttons (3 vs. 1), bound buttonholes, and in-seam pockets (for my phone)
Interfacing
: Shout-out to
Pam Erny's LOVELY interfacing
...after my last experience with Pellon, I immediately ordered several types from Pam's shop and am so pleased with them: very professional look and feel, and quite easy to work with. I will definitely replenish my interfacing stash from her shop!
Changes:
I may nip in the waist a little bit -- it seems a bit baggy in the picture, but it is so comfortable to wear! The princess seams would make it a fairly easy alteration. Also, the sleeves seem long in the photo -- I didn't notice that when I wore it, though. Maybe I spend my time with my elbows bent.
Wide Collar:
I like the look and feel of the wide collar -- but would wear a scarf if it's chilly outside. With our unseasonably warm 60/70F days I haven't needed one. Not sure why it looks so wrinkled in the shot below -- maybe it's just the mannequin. It is fine when I'm wearing it.
No other pictures worth showing...the pattern is so busy, it's tough to see any details!